Get control over your compensation spend.
Our compensation management solution automates and streamlines the entire compensation management process — from defining programs and guidelines to budgeting and modeling to routing proposals for approval.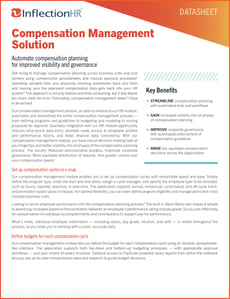 STREAMLINE compensation planning with automated tools and workflows
GAIN increased visibility into all phases of compensation planninG
IMPROVE corporate governance with automated enforcement of compensation guidelines
MAKE fair, equitable compensation decisions across the organization
With our compensation management module, you have robust decision-making tools at your fingertips and better visibility into all phases of the compensation planning process.