The modern workforce is complex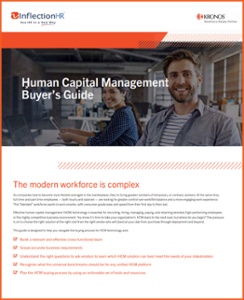 Effective human capital management (HCM) technology is essential for recruiting, hiring, managing, paying, and retaining talented, high-performing employees in this highly competitive business environment. The pressure is on to choose the right solution at the right cost from the right vendor who will stand at your side from purchase through deployment and beyond. This guide is designed to help you navigate the buying process for HCM technology and:
Build a relevant and effective cross-functional team.
Scope accurate business requirements.
Understand the right questions to ask vendors to learn which HCM solution can best meet the needs of your stakeholders.
Recognize what the universal benchmarks should be for any unified HCM platform.
Plan the HCM buying process by using an actionable set of tools and resources.