A multitasking time clock for fast, easy data collection and so much more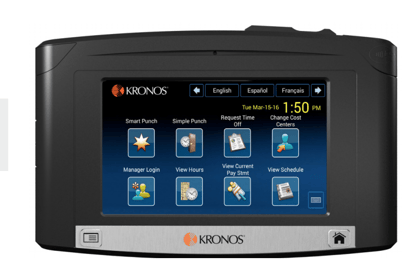 Built for today's modern workforce, the Kronos InTouch ® for Inflection HR's HCM Solutions delivers an unrivaled user experience that changes the way employees interact with their HCM systems.
See all of the features of this amazing time-clock including: adoption and improved productivity.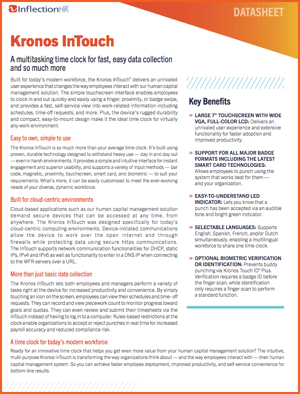 SUPPORT FOR ALL MAJOR BADGE FORMATS INCLUDING THE LATEST SMART CARD TECHNOLOGIES: Allows employees to punch using the system that works best for them — and your organization.
EASY-TO-UNDERSTAND LED INDICATOR: Lets you know that a punch has been accepted via an audible tone and bright green indicator.
SELECTABLE LANGUAGES: Supports English, Spanish, French, and/or Dutch simultaneously, enabling a multilingual workforce to share one time clock.
OPTIONAL BIOMETRIC VERIFICATION OR IDENTIFICATION: Prevents buddy punching via Kronos Touch ID® Plus. Verification requires a badge ID before the finger scan, while identification only requires a finger scan to perform a standard function.