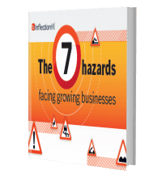 Fill out the form to get access to our white paper and understand what hazardous areas your company could be spending time in that are preventing growth.
Some of these areas include:
Manual processes and administration can hinder performance across your company

Inability to put right person at right place at right time can lead to missed opportunities

Lack of insight into what employees are doing can result in poor decision-making capabilities

And much more…
We'll give you insight into all 7 of these hazards after you fill out the form to view the whitepaper. And best of all? We'll give you tips on how you can avoid or resolve these 7 hazards.