"As more organizations make the connection between hiring the right people and achieving success, HR leaders are increasingly approaching recruitment and hiring as a crucial competitive differentiator. "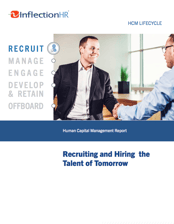 How can you ensure your company is sought out by top candidates? How can you develop and retain the next generation of leadership?

Download this white paper to learn how can you scale your hiring and recruitment efforts to meet global demands, attracting top talent across generational, location, and cultural boundaries.