September 18, 2017 marks the day when employers must officially begin using the newest version of the Form I-9.
Take action today to confirm you've updated to the latest version by checking the version number in the bottom left-hand corner of the form. It should be marked with a date of July 17, 2017 and look like this: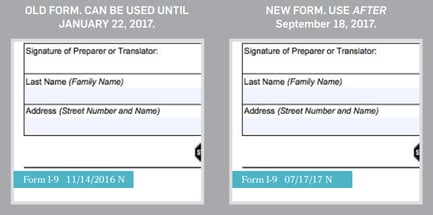 Use this opportunity to also re-circle the wagons and check in on your overall Form I-9 policies and procedures. Download our latest ebook, Form I-9 The Definitive Guide from our HR compliance experts. This is an incredibly detailed guide to what may be the most intimidating 2-page employment document out there.
Be sure to update all paper new hire kits and forms (if you're still using them). Confirm you have the latest revision updated in your electronic onboarding solution. And if you don't have an automated solution for employee onboarding, take a look at our cloud based HR solution, which comes with the ability to digitize your new hire kits and forms, automatically onboard employees, and much more.
Lastly, don't get caught off by HR compliance needs or changes in legislation again - get proactive alerts and service from experts in our HR Support Center.