Human capital management (HCM) solutions are very appealing to today's HR, payroll, finance, and IT decision-makers because of their ease of use, affordability, and flexibility.
Here are 6 benefits that HR teams should ensure they get from their HCM solutions.
Improve Processes and Increase Efficiency with Modern HCM Solutions
In 2015, SHRM noted that there is a trend for companies to move to a paperless process using modern HCM solutions. Eliminating the need for paper can save time and money, and increase productivity.
"Productivity and efficiency are the No. 1 reasons for people to go to a paperless system," reported SHRM.
Human capital management (HCM) solutions can help you go paperless by automating processes with customizable workflows that can completely eliminate paper forms and manual processes from cluttering desks. Additionally, they have online document storage solutions that allow teams to store and track employee information in one place, giving those in HR one employee record to go to for everything they'd need to get their hands on.
When all of your important company data is stored in a secure cloud at your fingertips, you can avoid spending excess time hunting down paperwork and paying unnecessary non-compliance fines. You'll reduce the storage space needed in your office and eliminate all those extra spreadsheets and reminders that you've been relying on to manage compliance-related concerns like the ACA (e.g. most systems send HR when an increase in an employee's hours might have implications under the Affordable Care Act, no spreadsheets needed).
Recruit and Hire Best-Fit Talent with Modern HCM Solutions
Modern HR solutions promote a positive applicant experience and make it easy to source, track, and evaluate top candidates.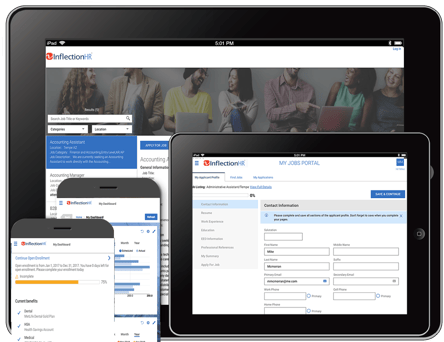 Talent Acquisition Solutions with Modern HCM Solutions
With a quality talent acquisition solution, candidates can easily search for jobs and apply online, while managers can:
Post job requisitions
Screen and accept applications
Track applicants throughout the pre-hire process.
Employees will be engaged from the very start with configurable onboarding tools and social media integration.
HR teams get to chalk up another win if they can work within best-practice guidance and processes that most HCM solutions have built-in when they go live.
Simplify Benefits Management and Open Enrollment with Modern HCM Solutions
Benefits administration can be a complex and time-consuming process, during open enrollment and throughout the year.
Customizable self-service tools empower employees to select plans and make life event changes on their own — which will help increase engagement and reduce your administrative workload.
Today's HCM solutions enable HR users to quickly set up, configure, modify, and manage multiple benefit plans, as well as profiles, quickly and easily. With on-demand visibility into eligibility, enrollment status, and costs across the employee base, benefits management will be easy.
Drive Employee Engagement with Modern HCM Solutions
Today's modern HCM solutions are rich with talent management tools that help drive employee engagement
You can easily give your managers and supervisors on-demand visibility into each employees' goal status and performance throughout the year. This will allow you to provide ongoing feedback, nurture your employee's progress, manage specific outcomes, and recognize achievements when they happen, instead of pretending to do it once a year.
Kick the bad habits scope creep, what-if scenarios, process redesign, and more, to the curb. Utilize your HCM solution provider and take advantage of the best practice workflows and suggestions that are built into your HCM solution.
Empower Employees and Managers with Modern HCM Solutions
Today's HCM solutions should be intuitive and accessible through the web or a mobile app. Instant access to critical information like schedules, pay stubs, time cards, time off requests, benefit plans, and tax forms is incredibly beneficial.
Role-based security makes it easy to administer access to managers, giving them visibility into important employee information.
Don't overcomplicate or let the fear of losing control stop you from giving your employees their security roles, and don't avoid empowering your employees all together because you think that they will never use self-service.
Improve HR Decision Making with Modern HCM Solutions
Modern HCM solutions are delivered with insightful dashboards and pre-built reports that provide impactful insight that HR can use to guide their company forward and drive results.
Ensure you ask your HCM solution provider to set up your account with best-practice dashboards for your industry. You'll be able to leverage these pre-built solutions as you learn to use your HCM platform, providing access to critical information.
What are you doing to move your business forward?
With the right solution provider, you can have it all — HR, payroll, talent, and timekeeping — in one system. Learn more.